Last week I was perusing the M14 Card Image Gallery over at the Mother Ship and happened upon this spicy three drop: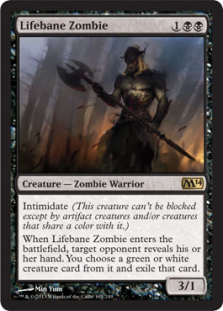 Lifebane Zombie
What did you think when you first saw Lifebane Zombie? Pretty good hoser card? Playable main deck! (if barely) The power-to-casting cost isn't too far off; the built-in evasion packes a little extra value into Lifebane Zombie as a combat creature, at least against non-black; and when you are up against green and / or white it is actually a potential murderer. Is that what you thought?
Me?
I thought about my man Slithery Stalker:
Slithery Stalker
Slithery Stalker saw relatively little play outside of Odyssey Block Constructed, but it was a main deck 187 in the Block Pirates! deck. Pirates! wanted any potential self-contained card advantage that could be packed into a body, and Slithery Stalker fit the bill, especially given the popularity of U/G (and to a lesser extent G/W) creature decks in the format.
So… Why bring it up? How does shiny new Lifebane Zombie remind us of that rusty old 1/1?
Slithery Stalker featured prominently in my second Star City column, Realizing How Bad You Are, which was at that point maybe the most controversial strategy column ever:
I was playing in the last qualifier (not counting the Last Chance Qualifier) for last year's PT Houston. The format was Odyssey Block Constructed, and, not surprisingly, I was running a U/G Threshold developed with Brian David-Marshall. I didn't like having to play in this PTQ at all because I was technically qualified on rating, except that there was a reporting mistake on the K value of a tournament I had won earlier in the summer, meaning that I needed some small number of points in order to make the ratings qualification cutoff. But I wanted to be qualified, so there I was gaming in the PTQ.

U/G was not actually my first choice. I really liked the mono-black Pirates! deck, but due to horrible things on Day Two of the Pro Tour, Stalking Tiger, Hidden Gibbons somehow dropped from their first place position to a nowhere land of non-qualification, meaning that Paul Jordan, the owner of my planned Pirates! deck, would be making Top 8 with it himself, and I was stuck with my previous week's weapon of choice.

So with Pirates! on my mind, there I was, three rounds deep.

My third round opponent won the Game One roll and played first. On his turn, he played Swamp.

On my first turn, I played Island (I had Mental Note in hand), and passed the turn back.

My opponent followed up with another Swamp, and played Mesmeric Fiend. With the following hand, I chose to let the Fiend resolve:

Aquamoeba
Aquamoeba
Breakthrough
Mental Note
Werebear
Forest
Island

I could have played Mental Note in response, but I didn't think that would be a particularly good play. My opponent may have taken the Mental Note rather than one of the potentially more relevant cards, or I could have randomly put a more juicy card into my hand (say, Phantom Centaur), that I would rather not have hiding under my opponent's Fiend.

To my thinking, Swamp, Swamp, Mesmeric Fiend could represent for the opponent one of three known deck archetypes: a B/u Braids/tempo deck, the mono-Black Pirates! deck, or a hybridized mono-Black control/Pirates! blend. The obvious choice would be for the opponent to take Werebear (my best enabler), and the other possible choice would be to take Breakthrough (card advantage, and synergistic with Aquamoeba, Werebear, and Wild Mongrel all).

So you can imagine my surprise when the opponent instead chose Aquamoeba.

Why would he do that? I even had another Aquamoeba!

I decided that he wanted me to play Werebear. The only reason he would want me to play Werebear, potentially a 4/4 attacker in short order given the Blue cards in my hand, as well as a powerful mana accelerator, would be because he had an answer in his hand that could tackle Werebear, but would not be good against Aquamoeba.

That smelled like Slithery Stalker to me.

So on my second turn (after a Mental Note at the end of his turn, of course), I decided to say"Screw you, opponent," and play Forest, Aquamoeba.

My opponent untapped, tapped three lands, and…

Sent my Forest to the graveyard with Rancid Earth.

I untapped, played an Island (putting me back to two lands) and sent Aquamoeba for three. Luckily for me, somewhere between my Mental Note and the ensuing draws, I had plucked Basking Rootwalla and Wonder. Obviously I used Wonder for the Aquamoeba pump.

Down to seventeen.

On his turn, my opponent decided to respond to my aggression by counterstriking with his Mesmeric Fiend. The Basking Rootwalla jumped out of my hand and met his Mesmeric Fiend. I would have preferred to pump and save it, but alas, that was impossible with UU open. Nevertheless, I was able to recover my Aquamoeba.

Unfortunately for me, the opponent followed up his attack with one of the worst possible cards for me at this point: Braids, Cabal Minion.

I untapped and lost one of my Islands. I ripped a land, but unfortunately it was yet another Island, rather than the Forest that would have allowed me to play Werebear. With Wonder in the 'yard, I sent Aquamoeba for another three and played the other Aquamoeba, leaving me with two Islands and two Aquamoebas in play.

Got him to fourteen.

My opponent did something, but it didn't involve killing an Aquamoeba or an Island, so on my turn, I lost an Island, and then tossed two cards from my hand to put my opponent to 8.

On my sixth turn, I had a really tough decision. I was down to just an Island and my Aquamoebas. I could either lose an Aquamoeba and send the other with Wonder, or I could lose my Island. If I didn't draw land (specifically Island), I would end up losing Wonder potential next turn even if I saved the Island this turn, and if I kept both Aquamoebas, my opponent would have to block with Braids or take six, meaning that I could win the game the next turn any number of different ways.

So I made a hard choice and lost the Island. Of course I didn't draw a land.

I send the Aquamoebas. Both had cards pitched to them. One put my opponent to five, and the other traded yet another card to get rid of Braids. If I had been able to save it, I would, but out of cards, I was at least able to get that dangerous permanent off the board.

As it happens, my opponent didn't draw anything to block an Aquamoeba or any of the zillions of ways he must have had in his deck to kill a creature in time, and my little Blue Beast did him in, winning me the game with no cards in hand and no non-Aquamoeba cards in play.

He revealed his top card, which was, of course, Chainer's Edict.

That was some good Magic. I won the game with no cards in hand and no non-Aquamoeba permanents in play, while my opponent had both cards in hand and lots of lands. In fact, if I had played any less precisely, sacrificed a man instead of an Island, been less all-in with my attacking, I would almost certainly have ended up on the wrong end of that Chainer's Edict. I played so fast and hard that I denied my opponent the opportunity to draw his out. This was probably the best game of Magic I had ever played.

I liked this game so much that I immediately told my friends the Pro Tour Champions.

"And to think, you used to be good at telling stories." – Bob Maher

I of course didn't understand why Bob was shaking his head. This was the best game I had ever played! I had my back against the wall the entire time. I had no cards in hand and only an Aquamoeba when my opponent lost. I never broke out of Braids lock, but I never gave up, either.

Dave Price pointed out something very obvious (which was why Bob was so disappointed). Even assuming my opponent had the Slithery Stalker (which he didn't), and it was right to hold the Werebear on the second turn (which it wasn't), I should have played the first Aquamoeba with double Island.

Imagine how different that game would have been if I had just held the Forest. I would not have lost it on the third turn to his Rancid Earth. When I played the Basking Rootwalla to get back my second Aquamoeba, I would have been able to pump it rather than just trading with the Mesmeric Fiend. Turns later (especially given the fact that he didn't have the Slithery Stalker) I would have been able to play a sizable Werebear, rather than just tossing it to Aquamoeba for an ephemeral two damage.

It might be reasonable to say that I played really good Magic from turn 3 forward, that I played out of one or more mistakes made in the first turns, but the fact of the matter is that I was a little lucky, just lucky enough, and at the right moments, to counteract all the horrible luck I had that game. This wasn't the beautiful game of Magic that I thought it was, and the fact that I thought that I played so well punctuates the idea that players who win tend not to see their own mistakes, however horrible.

The next time your lucksack opponent top-decks the one crappy card that he needs to in order to win the game on the last turn, you know, the turn that you were about to win, deserved to win, but ultimately didn't, damn that lucky lucksack top-decker, think for a moment. You might have made a crucial error in the first couple of turns of the game whereby your opponent was gifted with the two life that postponed the end of the game by a turn or more. You may have given him the opportunity to stabilize the board, make a crucial chump-block, or top-deck the card that beat you when the opponent should never have had the chance.
Just the idea of Slithery Stalker was enough to send me into a tailspin of playing-the-wrong-land followed by narrowly considered, arguably perfect, execution (given a sub-optimal start). Lifebane Zombie is approximately three times as powerful as Slithery Stalker… It has three times the power; its evasion is effective something like four times as often (non-black versus black); it's anti-Selesnya card advantage, though hitting the hand and not the battlefield, doesn't come undone when it dies.
Then again, if I had [incorrectly] guessed Lifebane Zombie, I would have just played the Werebear and avoided much of that situation's stress.
Nevertheless, pretty substantial creep without actually hitting the level of a Perish for three mana.
But even further than the power creep on three drop anti-Selesnya creatures is the strategic leap players have made. Like I said, Realizing How Bad You Are was pretty controversial in 2003. Jon had been talking about there being only one right play in smaller circles, but it was not a commonly held tenet by the majority of the Magic universe yet. Today, most players understand the difference between optimal play and everything else; only by striving to make the best plays can we give ourselves the best chances for victory. In 2003 players were more broad minded about plays in a philosophical sense, aligning themselves more with what seemed to feel right at the time without considering the structure of repeated actions and the production of predictable results over time.
Count yourself lucky that you know better.
LOVE
MIKE