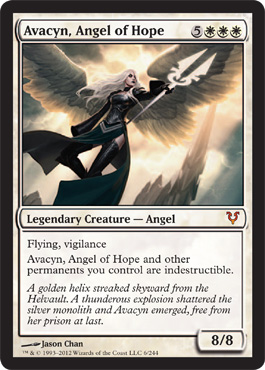 No, I don't like Avacyn, Angel of Hope. More on this later.
Yesterday was an absolutely epic day here in Five With Flores land.
243 Facebook Likes? Are you m-f'ing kidding me?
We crushed any and all all-time records with well over 10,000 visits. And why?
No effin' clue.
I literally saw Tibalt, the Fiend-Blooded circa 6am when my toddling monsters awoke me from my Thursday evening slumber, and decided to comment based on — if you read yesterday's blog post — what I saw as some unnecessarily reductive forum posts.
Was I a little too harsh?
Maybe.
But it's not like this is the New York Times or something; if one can't be self-indulgent on one's own blog, where can one?
Over 300,000 people have visited Five With Flores over the past four years or so, but we have never welcomed 10,000 of them in a single day before, not even when being linked to by ye olde Mother Ship. Was the universe just trolling me on account of it being Friday the 13th?
Don't care.
Thank you any and all for validating me, per usual.
At this point, I would like to thank my Twitter friend Scott MacCallum, better known as @MrScottyMac. A short time ago I appeared on — to be frank — a surprisingly unpopular episode of Scott's podcast The Eh Team.
I am a "what's great about this problem?" kind of person, and took something really compelling out of that appearance, which is that all The Eh Team guys talked about loving this blog, and lamented that I had let updating it slip since, you know, December of last year… Scott in particular.
So if Scott (and KYT, Medina, and Jay) didn't give me a little push, I might not have ever had a day like yesterday.
Quid Pro Quo, Scott recently did an interview at Medina's site LegitMTG ("what is LegitMTG?") that he asked me to look at. I actually enjoyed this interview. I think you should visit LegitMTG and read it.
Summon Legend: Scott MacCallum
Things I really liked:
Scott taught his son to read via Magic: The Gathering cards (he saw how much fun they were having and wanted to join in)
Actually the whole thing was heartfelt; I learned lots of stuff about Scott I didn't know, despite chatting with him regularly and listening to quite a few episodes of his cast for the past handful of years… Well worth the read.
Things that could have been better:
Not enough michaelj. Sure, Scott says that I was a podcast inspiration and that being able to chat with me on Twitter was cool… But most of you on Twitter know that I will chat with most anyone there! Examples for improvement: 1) naming me as the hero of his story (over the ridiculous choice of Brian Kibler), 2) drafting me for his "surviving the Zombie Apocalypse" team, or 3) at least mentioning Top 8 Magic in his favorite podcasts!

… But hey, we all have room for improvement 🙂
On the subject of fellow Twitter folk / podcasters / personalities elsewhere, Chris Lansdell of Horde of Notions recently did a nice write-up of deck design principles he learned from me (and some other guys but I don't remember who any of them are).
One thing I find to be super ingenious and super useful is anything that is both blatantly obvious and true being said in plain language. I absolutely love stuff that has some people saying "well, duh…" You know why? Because even if something is obvious to you, that doesn't mean that it is obvious to everyone, and especially in a game as fast-growing as Magic, we have new players who are eager to learn joining our ranks every day.
This is what I am talking about in Chris's post:
"It's a fundamental truth that the power of your spells increases with the mana cost, at least when it comes to tournament-quality cards."
I was talking about a very similar concept in the most recent Top 8 Magic podcast *, specifically why I don't like Avacyn, Angel of Hope.
Most of my compatriots were talking about how she has a lot of board presence. Yeah. Congratulations. She costs eight. If I am spending eight, I don't want an "indestructible" creature that dies to Tragic Slip. My God, Vapor Snag is probably the most common creature control card being played in Magic: The Gathering right now.
"Well you probably aren't paying full retail for it."
Well if I am reanimating… Or I am paying eight, and I am allowed to play Avacyn Restored cards, why do I have dumb Avacyn, Angel of Hope in my deck rather than Griselbrand?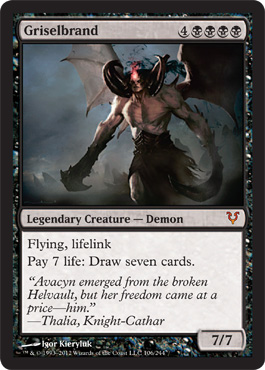 "Pick me! Pick me!" -Griselbrand
Even the most Spreading Santorum-leaning conservative player can, you know, gain seven to pad HIS life total a bit before paying the seven to, you know, completely take over the game.
"One of these things is not like the others."
-Aaron Forsythe
(when the DailyMTG fans were voting on Crucible of Worlds versus other, less card advantageous, options)
Anyway, Chris's plainly spoken statement pretty much echoed what I was thinking about last week, and as you know, that gives you like +1 points in my book.
Check out Chris's blog post and see where you can agree, disagree, or just pick out michaelj name-drops (also an admirable way to spend a Saturday evening).
Last "everywhere" in this roundup: AJ Sacher put up a blog post on EV and how to deal with girls, possibly "for whom you care deeply" (AJ's terminology).
I would recommend clicking the above and checking out AJ's story before reading this next bit.
I have been in similar spots, especially early on in my dating / married life to / with Katherine. One thing that women I dated found odd about me — and I don't know if this is the same with you or what — but they often didn't understand the adversarial / competitive relationships I had with some of my best friends. Think about how you deal with some of your best buds… Many of mine are duels of oneupsmanship, or running beats, shenanigans, or dirty tricks on each other. Who's the barn? Who's the hull? Different question: Who's winning? How do we keep score?
In AJ's spot I hope I would have recognized the communication disconnect and just acceded to her. It is just simpler to let her thank the other guy than inadvertently step on feelings. If there is one thing marriage has taught me, it is that avoiding conflict is generally more desirable than "being right" (or perceived as right).
Anyway, summary of everywheres:
* Oh, and one more thing… New Top 8 Magic Podcast is up at MTGCast!
Thanks for reading, etc.
LOVE
MIKE