Concerning:
Koth of the Hammer :: Jace, the Mind Sculptor :: Mana Acceleration
Banned Cards :: Speculation :: … and Koth of the Hammer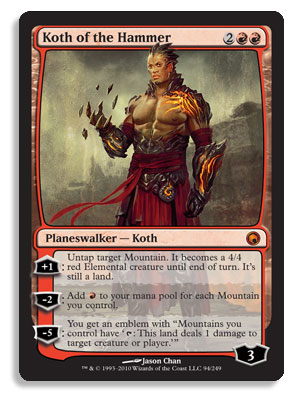 This morning I considered speculating on Koth of the Hammer.
I figured maybe buy all of the copies I could around $20. I figured Koth of the Hammer would more than double in value, in much the same vein as Jace, the Mind Sculptor.
You see, it is my current belief that Koth of the Hammer is the most powerful Planeswalker we have seen.
It is kind of a shame. I was not thinking big enough when I wrote the Koth of the Hammer preview for the mother ship. The biggest thing I could think of at the time was jumping an Inferno Titan into play with Koth's [-2] ability. Have you got any idea how powerful this card is?
If you play a fifth land on the fifth turn, with Koth in play on the fourth, you have literally 10 mana available! How about this one?
Turn two Everflowing Chalice.
Turn three Koth of the Hammer, untap a Mountain, go.
Opponent makes and sends with a Vengevine.
You answer the Vengevine with the Lightning Bolt you didn't bluff with your untapped Mountain (which in fact powered up Koth of the Hammer).
Turn four add RRR to pool, tap your four "real" mana to make RRRRRRR1.
Ka-pow!
You blow up the world, including basically all of the opponent's mana and any stray animals, you still have arguably the most powerful Planeswalker in play… and then you play a land.
Koth is so crazy powerful it blows my mind. I liked Jace, the Mind Sculptor from the get-go but Koth seems a few millimeters from too good. You see a card like Jace might go in many different decks, but that doesn't make it the most powerful Planeswalker. Going in lots of different decks has nothing to do with who is the most powerful. Look at the average banned list entry…
… Which one goes in lots of different decks, again? Cards are banned because they are too good. Being too good usually means providing too much mana in value relative to how much it actually costs. You know, like giving a return of 10+ mana for an investment of only four (not to mention getting additional value out of a card).
Here is something BDM pointed out to me while we were podcasting tonight…
What happens when Jace and Koth fight? All other things held equal, doesn't Koth just kill Jace? … And then make a bajillion mana and crush you with some super awesome jimmy jazz? Mountain to the jaw? Hi-yah?
yes, Yes, and YES again.
Okay then… What's the damage? Why am I afraid of Koth of the Hammer? At the beginning of this article, wasn't I talking about wanting to speculate on him?
Sure, speculation might be a bit dicey with Koth already at a pre-order price of $50 at many stores. That's not the only problem (he could easily see Primeval Titan or Jace, the Mind Sculptor prices).
… I'm afraid he might get banned.
I own a binder full of Time Spirals, no lies. Well maybe not a whole binder, but you get the picture.
Yeah, TDG.
LOVE
MIKE