I mean, it almost goes without saying.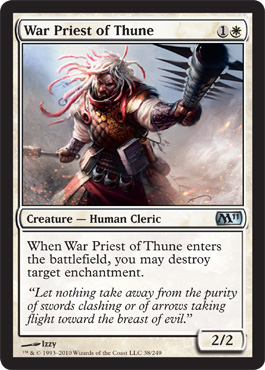 War Priest of Thune
I am trying to figure this out.
Looks like Magic 2011 is going to be a set where tournament staples of times past are just going to be strictly outmoded by the M11 versions.
If you don't have a lot of context, War Priest of Thune might just look like a pretty good 187 creature. That doesn't quite capture it… War Priest of Thune is in fact full court bananas. You see there used to be a creature Monk Realist; Monk Realist was played main deck in basically all of the Survival of the Fittest decks of its era.
… And War Priest of Thune is twice the man Monk Realist was.
Monk Realist — also a Cleric mind you, so there isn't much wiggle room around creature type — was a mere 1/1 creature for the same 1W mana cost.
And now that there is a new Survival of the Fittest with legs? I think War Priest of Thune might just pick up where Monk Realist left off ten years ago.
Of course a 2/2 for two mana with a very serviceable special ability (I'm looking at you Oblivion Ring) is plenty good enough for regular old inclusion in a beatdown strategy. I don't know that I would want to be the Pyromancer Ascension rogue in the room once the War Priest comes legal.
Snap Judgment Rating – Role Player (high); Staple (in White-enabled Fauna Shaman decks [one-of])
LOVE
MIKE